Hi there. Welcome to my web site.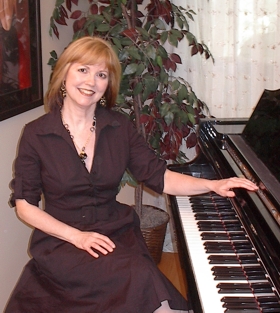 One of the most important elements in life is to find your passion. To become totally immersed in that passion and build a career with it is fulfilling in every way and a true blessing which is worth all the effort to make it a success.
Both my parents were professional musicians and even as a preschooler, I would pull out music from my father's library and try to figure it out. I can remember being very excited at my first piano lesson because I already knew the first two pieces! My passion was right there in front of me and I didn't have to go far to find it. Singing was also an integral part of my development. I was always in good choirs and followed the RCM curriculum.
As a teacher, it is crucial to project encouragement, positivity and excitement consistently throughout a student's musical journey. In my opinion, the most important aspect of musical development is the love and pleasure of it, whether piano, singing and/or writing music. If you have that, everything else will fall into place. My role is to project that in a way specific to each student's needs and goals.
As a performer, my role is to portray the sheer pleasure of music. My voice and the piano complete me and I would be lost without them.
I hope you will look through my site. Perhaps we can work together in developing your musical talents or I can be of musical service to an event!
Musically yours,
Debbie Scott, B.Mus., RMT
(416)-897-1406
Teacher/singer/pianist/songwriter/composer